Topic:
I want to configure a maxon X drive combination. How can this be done the most efficient way?
Solution:
Based on the so-called X drives it is possible to select and configure motor combination in a flexible way. Finally the corresponding data sheets and CAD documents are ready for download immediately and the motor combination can be ordered only. Production is typically processed within 11 working days.
Line of action and configuration features:
Please open up maxon's global website (www.maxongroup.com) or one of the local websites (e.g. *.de, *.ch, *.us, *.co.uk, *.co.jp, *.com.cn, *.in, ....) which all provide the same so-called "CTO - Configure to order" features for the X drive.
Scroll down this page to the "Configure your solution" section. Select your required base motor, e.g.:


Press the "Configure a drive" button after you have selected your base motor.



Please wait some seconds (up to a minute) until the configuration tool has build the web page offering all add-on components and configuration features available for your specific base motors.
There are typically the following add-on components available based on your selected motor:
Gear boxes
Sensors (w/o hall sensors, encoders)
Sometimes: add-on brakes
Press the "Apply" link after each added component to add this to your motor combination.



After the basic selection of components has been done there can be more characteristics configured and the operating point of the drive unit can be checked:
Winding type of the motor
Gear ratio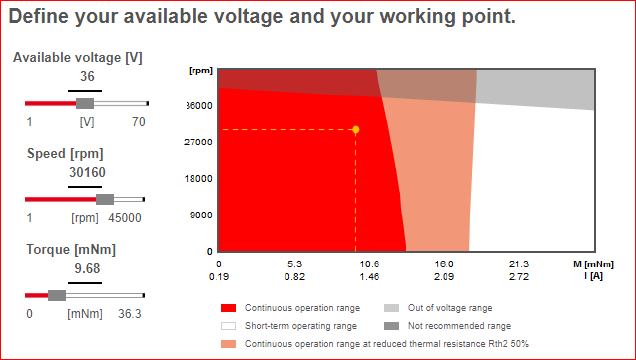 Press the "Continue configuration" button (on top of the configurator) after the selection of the motor combination's components has been done.



The configuration of specific details of your motor combination can be configured in the next steps, e.g. ...


Shaft lengths and design
Gear flange: Pitch circle, number of threads
Cable lengths, cable orientation, connector types
Encoder resolution
Finally you can download the data sheet and CAD files of your configured motor combination and order it. The production time up to 49 pieces will be typically 11 working days.

Please find below a video providing a quick glance of some configuration options of maxon's X drive product lines:
Cross reference:
Find more information about the order and sales process by the other documents available by the Support Center's "Sales Support" section.