The ESCON Studio offers the feature of so-called "Virtual Controllers", which allows to open, check, or modify configuration settings (*.edc file) even if no real ESCON device is connected.
Activation of Virtual Controllers
The "Virtual Controllers" are not (!) activated by ESCON Studio's default configuration. The corresponding setting can be accessed by ESCON Studio's menu item "File -> Options -> Virtual Controller" dialog window.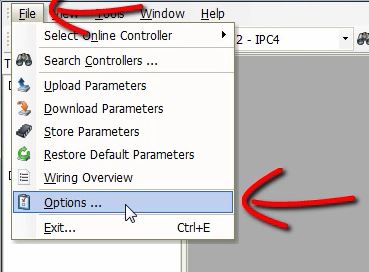 The "Virtual Controllers" are activated by marking the checkbox "Scan for Virtual Controllers" and pressing the "OK" button. If this checkbox is marked, all "Virtual Controllers" are installed corresponding to each of the ESCON product types.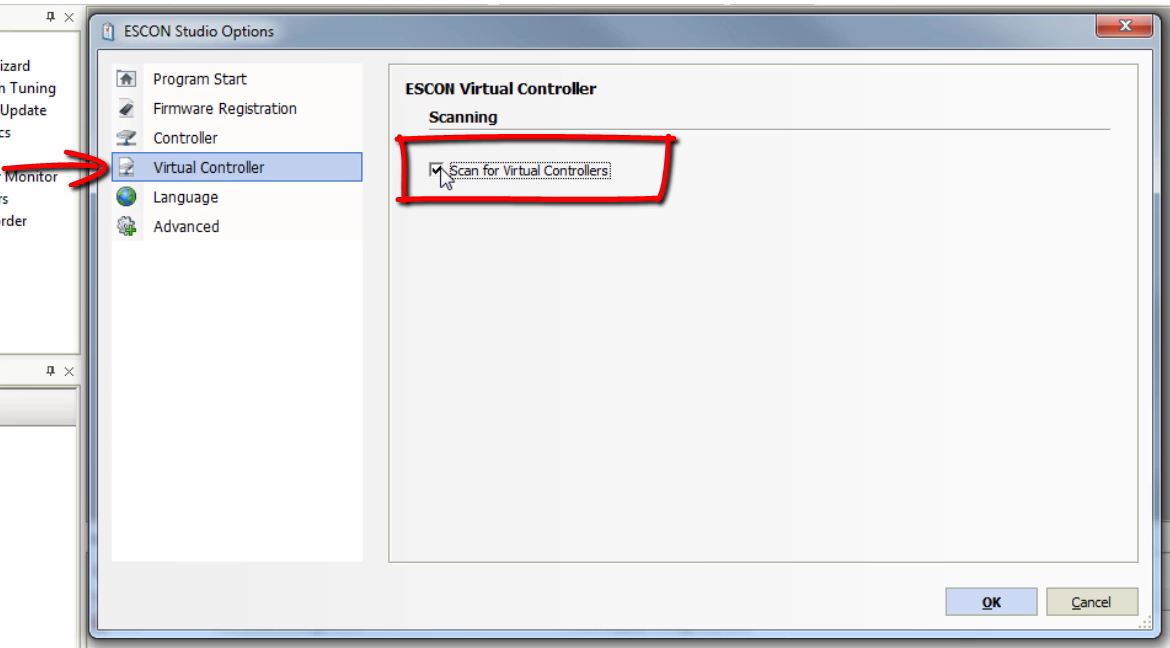 Selection of a Virtual Controller
The "Virtual Controller" in use has to be selected by the "Active Controller" drop-down selection box. It is almost the same like the selection of a real controller. The "Virtual Controllers" can be identified in the selection box by the ending "... - IPC" (instead of "... - USB").

Every time a controller is selected, the ESCON Studio adapts to the features of this specific controller. It is possible to download a *.edc parameter file, check and modify parameters (e.g. with the "Startup Wizard" or "Parameters" tool), and upload the configuration again to a *.edc file.
Remark
If a "Virtual Controllers" is selected in the ESCON Studio the error message "Vcc Undervoltage Error" is present all the time. It cannot be cleared because there is no real ESCON connected and no supply voltage present.
Be aware to select the real ESCON device (identified by "... - USB") as "Active Controller", if one is present and you want actually control a motor.
Please find attached a PDF document with screenshots showing the ESCON Studio configuration setting to activate the usage of "Virtual Controllers" or see the Video tutorial: ESCON Studio Options.