Topic:
What standards are fulfilled by maxon controllers?


Solution:
maxon controllers are designed based on relevant industry standards.
Please refer to the chapter "Specification / Standards" of the "Hardware Reference" of the maxon controller in use by your application. This chapter provides a complete list of the fulfilled standards and related test conditions.
All "Hardware Reference" manuals of a controller product line are automatically installed on your local drive during installation of the related PC-software, e.g. "EPOS Studio", "ESCON Studio", or "MAXPOS Studio".
There is typically information about the following standards covered:
EMC: Electrostatic discharge and field immunity standards
EMC: Interference and emmission standards
Vibration standards
Safety standards (UL)
Reliability standards (MTBF)


It is also possible to download the "Hardware Reference" from the maxon website on the corresponding product site.
Just type in the product name (e.g. "EPOS4 50/5") or its part number (e.g. 546047) in the search field of the maxon website.
Click on the product.
Click on the "Downloads" tab and click on the icons "Manuals" and "English". You will see all available manuals of the corresponding language section then.
In case of an "EPOS4 50/5" the product site and "Downloads" tab st looks like this: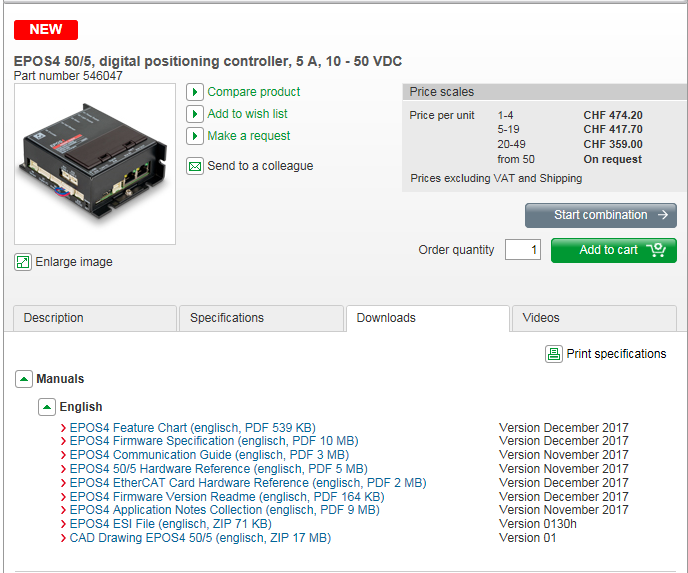 The "EPOS4 50/ Hardware Reference" provides the "Specifications / Standards then, e.g. in case of an "EPOS4 50/5" for example: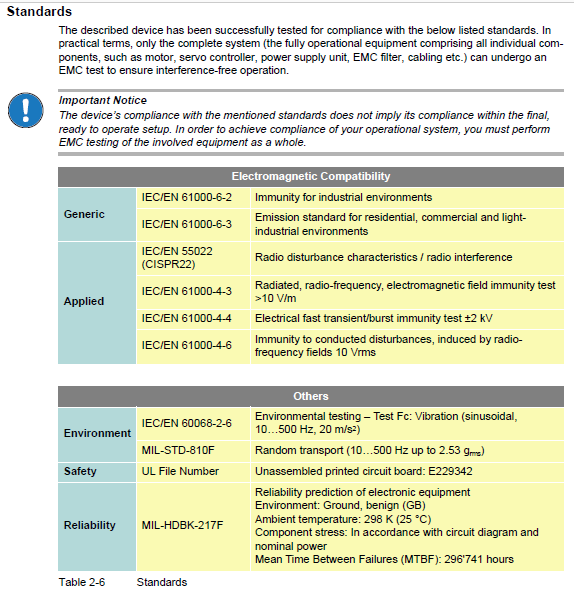 Important note:
The specified data is just valid for the related product type!
If you have another product type (e.g. "EPOS4 Module 50/5" instead of "EPOS4 50/5") in use, please check the standards in the "Hardware Reference" of this product type. Check that the part no. (P/N) on the first page of the Hardware Reference corresponds to the part no. of your product.


Cross reference: